Whether it is in the past or present, landed properties have stood the test of time in Singapore's history. Landed properties, particularly residential ones, have changed a fair bit over the years. So we decided to find some differences between landed residences of the past and of the present, especially as we bid goodbye to the 191 old-time two-storey terrace houses of Geylang Lorong 3 as they are returned to the state and prepared for demolition in 2021.
Landed properties being defined here comprise residential ones, particularly bungalows, semi-detached houses, and terrace units.
5 Key Differences Between Landed Properties Past and Present:
Differences Between Landed Properties Past and Present 1# Shape and Style of Roof
Image Credit: freepik
Roofs in Singapore have gone through some changes over the years. In the past, the most common roof shapes and styles were the pitched or sloped roofs, made with clay or tile shingles.
While pitched roofs are still prominent in many landed properties today, many newly-built landed properties sport the flat roof. The flat roof is easier to build, has a cost-effective roofing solution, and is versatile – you can use it as a rooftop gym, entertainment area, or garden. Basically, unlike with a slanted roof, you can style a flat one for any purpose (counted you have rooftop shelters for harsh weather).
However, flat roofs may be harder to maintain as it has to be kept clean and dry on a regular basis. You may also have to install special drainage systems to prevent flooding and water stagnation.
Concrete, metallic alloys, and plastic alloys have been added to the list of materials used to create roofs. In addition, due to technological advancements over the years, energy-saving solar panels can be installed on roofs in Singapore today – something that would have been unheard of in the past.
Differences Between Landed Properties Past and Present 2# Usage of Car-Porch Roof
Image Credit: freepik
In the past, a car-porch roof for a landed residence was just that – a shelter for your parked vehicle. There was not much else you could do with it in the past.
However, in November 2014, to let homeowners enjoy the outdoors and increase greenery, the Urban Redevelopment Authority (URA) allowed the conversions of car-porch roofs to open-air balconies or mini-gardens in November 2014. These converted spaces helped to alleviate the issue of shrinking land space.
This conversion is allowed as long as it 'remains open-to-sky and unenclosed', 'the parapet wall at the perimeter of the car porch is not higher than one metre', and 'the light-weight screen wall along the common boundary is not higher than 1.8 metres', as per URA guidelines.
Differences Between Landed Properties Past and Present 3# Facade / Exterior Walls
Image Credit: freepik
We use the above phrase loosely; in the case of the famous black-and-white colonial bungalows that were built in the early 1900s, it was not uncommon to find them with open spaces and full-length windows. However, the use of glass and other transparent materials as walls or partitions was not considered until just a decade ago.
Due to a demand for spacious, bright, and airy spaces, local architects have been erecting landed properties with expansive transparent or translucent facades. Having transparent exterior walls brings in more sunlight while elevating the illusion of spaciousness due to 'opening up' the area. These see-through walls are either tinted or equipped with special cladding to retain privacy and reduce glare.
Such exquisite landed properties can be found on local architectural and interior design websites.
Differences Between Landed Properties Past and Present 4# Bomb Shelter Usage
Bomb shelters were a luxury in the past, with some very old landed properties using them for protection against air raids or as panic rooms.
Today, they are a necessity, no matter your property type. It was in 1997 that the SCDF declared under the Civil Defence Shelter Act that it be mandatory to have a bomb shelter built into every residence erected from then on.
So many landed properties today, especially the newer ones, have bomb shelters included in their layout.
Differences Between Landed Properties Past and Present 5# Price And Value Due To Increasing Rarity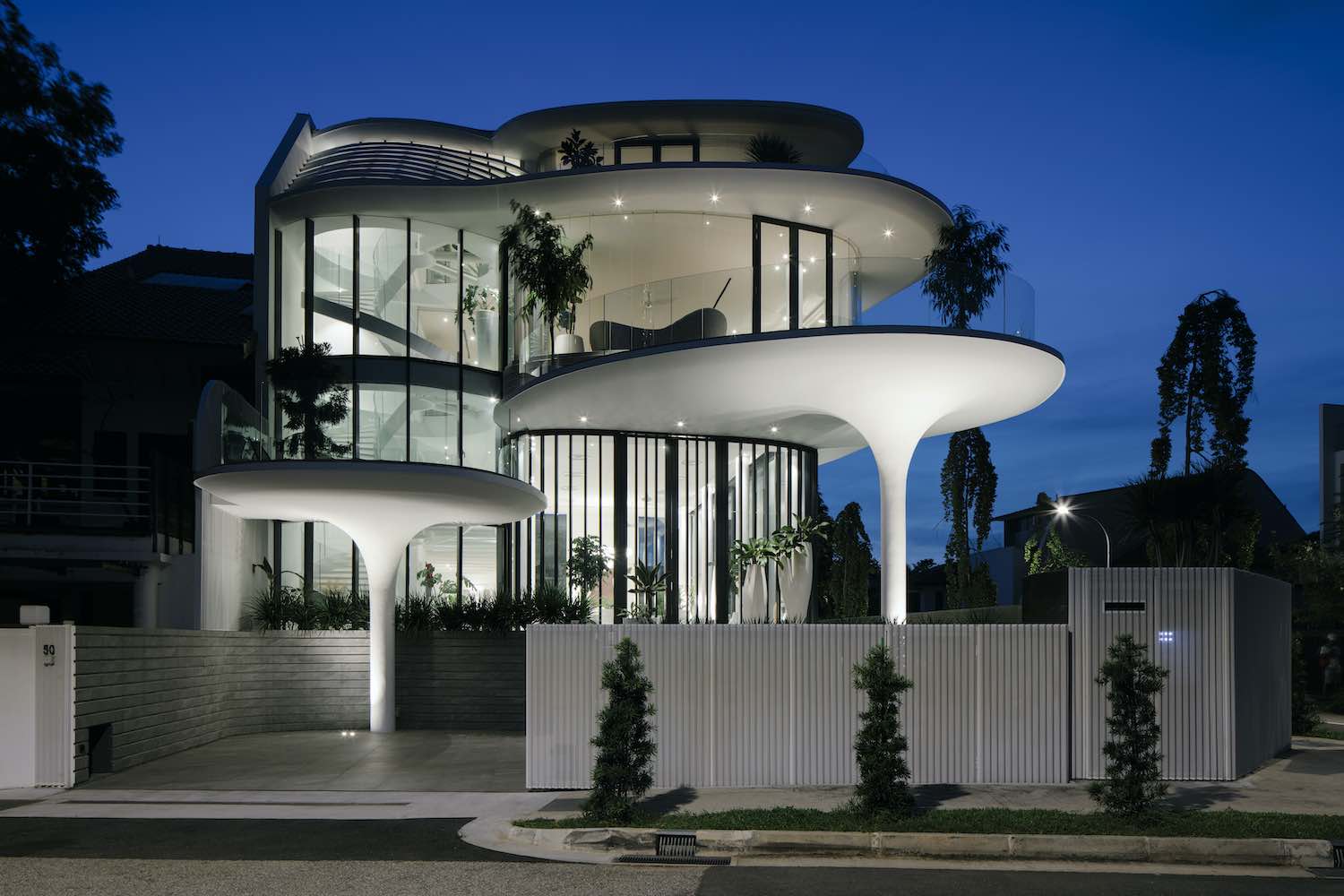 Image Credit: Amazing Architecture
Although landed properties are still being built, they are not built as quickly as HDB BTOs and condominiums; as says Lee Nai Jia of Knight Frank Singapore in a 2018 report – landed homes have increased by only a small percentage from 2008 to 2018 as compared to non-landed ones. This is due to the high demand for public or shared housing, the affordability of building such housing, and the shrinkage of livable land size.
As seen in the case of the Geylang Lorong 3 homes, old landed housing in popular districts may be placed on sale en-bloc to make way for public housing, leading to decreases in the number of landed residences in Singapore today.
Edgeprop.sg has pointed out that the current need to maximise land usage to house an increasing population has led to landed residences becoming a rarity today, which then increases their value. This makes them one of the most expensive and rarest property types in Singapore. So it has been said that if you managed to get a landed property, you are very lucky.
While landed residences today have become pricier and more difficult to obtain due to their decreasing number albeit rising value, they have evolved into intricate inhabitable works of art and architectural prowess.
Got plans to build a new landed property for your needs? Or perhaps you have an old house seeking a makeover? Check out our directory on BuildersTalk to find eligible builders who can work on your house, whether it was built in the 1960s or within the past few years.
Seeking Landed Property Builders in Singapore?
Builders.sg
 is a platform that connects property owners to trusted architects and builders across Singapore. If you live in Singapore and are looking for local landed property builders or architects
, 
welcome to Builders.sg!